Private Island


Private Island was an experimental arts project based in central Perth, WA. It was supported by DLGSC and hosted by Girls School. It was curated by its artists.




I'm Chillin @ Home
Ellen Broadhurst, Tom Rogers
4—27 September 2020

A collection of video, sculptural and installation works considering our interaction with the outside world during the 2020 COVID-19 quarantine. Throughout this decidedly interior period; devices, screens and windows (literal and otherwise) framed and recontextualised our otherwise familiar physical environment, community and relationships – reality was experienced largely as a reflection. Often; Isolation, paranoia, worry and boredom presented as further psychological barriers/filters/mirrors through which we experienced both the wider world as well as our own private, interior worlds.




Panic Buy
Tiyan Baker, Guy Louden
2—24 October 2020

Solid ground cracked, and everything permanent and inevitable fell away. Panic buying is a local expression of this age of global contingency. On bare supermarket aisles the tensions between the individual, the communal, and the corporate play out in a crisis of excess and necessity. Who prepares our communities for universal calamity? Panic buying is the climax of a system primed for collapse. This exhibition of video and 2D artwork is a first-time collaboration between NSW artist Tiyan Baker and WA artist Guy Louden.




Oranging Rain Glow
Jack Wansbrough, Oliver Hull
2—24 October 2020

Oranging Rain Glow is a pinboard structure, wired with video simulations, found objects and lamps. A computer predicts the movement of leaves on a tree over and over, scored by musicians, foley artists and asmr performers. Meanwhile, a metal wizard is soldered into a knot of wires linking domestic lamps, speakers, and screens. The objects and simulations are playfully interdependent, jittering into, passing through, sensing and activating one another. Oranging Rain Glow is the second collaborative installation by Oliver Hull and Jack Wansbrough.


Cloisterfuck
Pascale Giorgi & Guy Louden
13 August – 5 September 2021


Cloisterfuck is an exhibition of sculpture, digital, and baked goods that adopt the forms of Gothic art and architecture. The medieval age tends to stand for the base and bodily, the grotesque and esoteric. This show considers how the chaos of the dark ages could represent different and empowering ways of thinking and being.

The Many Forked Tongue
Alex Turner & Jack Wansbrough
10 September – 3 October 2021


It's Not Unusual plays wordlessly in a carpeted room. The singer breathes twice, speaks twice, speaks with a forked tongue, as it were. This has the desired effect: the performance redefines what is unusual within the room. One singer, a crowd of tongues. Meanwhile, in Nevada, Tom Jones gives a fake name to a hotel concierge, who politely pretends not to recognise the celebrity.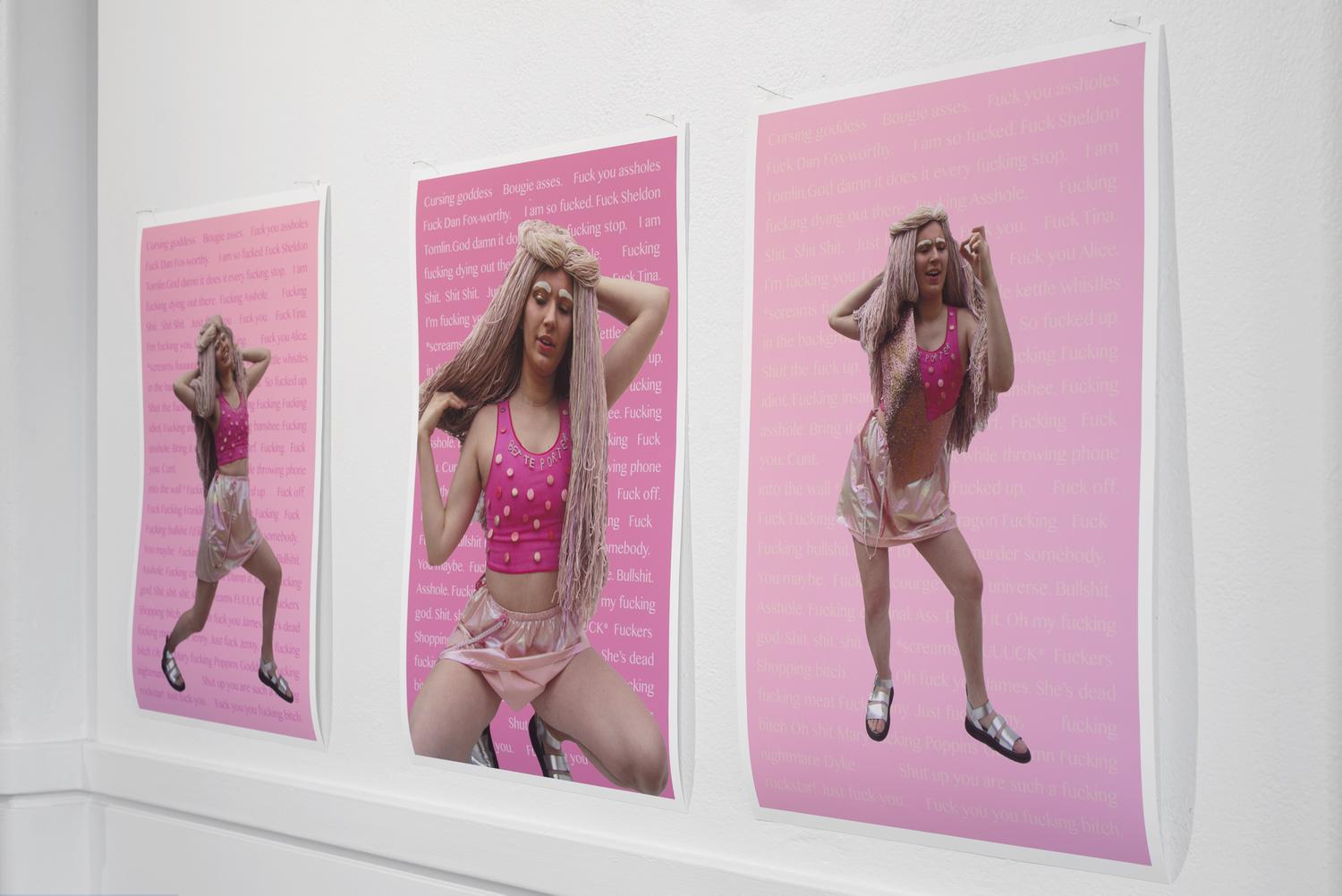 My Bath & Mode Work
Emma Horvát & Ellen Broadhurst
10 September – 3 October 2021


A bathroom doubles as a computer lab in Ellen Broadhurst's multimedia installation My Bath. Seeking a return to utero, a person is held weightless by their bath, entertained by the security cameras recording their front yard, youtube videos, face-time and late night SBS. 4-24fps rotoscope animation recalls a childhood lounge room equipped with Sim City and Adobe Flash; short films and sculptural forms consider isolation, alienation and comfort.


A Sunken Garden


Lyndon Blue & Tiyan Baker

8 October – 31 October 2021

A Sunken Garden is a show about wandering, foraging and perceiving. It's a show about a garden as a place where knowledge is sown, materialised and maintained.

For Lyndon Blue, hand-weeding proposes itself as a healthy obsession, a meditative ecological act, a confusing metaphor and a way of artmaking through removal. The allure of foraged copper leads to a foray into the strange art of dowsing and unexpected ancestral discoveries.

For Tiyan Baker, bringing together plant life, language and storytelling is a way to invoke the power and possibility of traditional Bidayǔh knowledge.



Install photography D McCabe in 2020, G Louden in 2021. Social photography Jim Hall.